We subscribe to many newsletters, but one of my favorites is Envirogadget.com and I am not even a gadget person! I like them because the site deals with gadgets to help you save money in the home and the office. Personally speaking, I love to save money!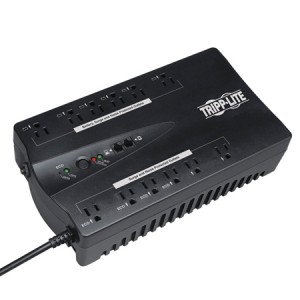 UPS (ininterruptible power supply) is a power supply that will kick in if you have a brownout, or a power outage of some sort. This gadget will keep your systems running and undamaged.  They are priced from $49-$89.00. A minor cost to keep your systems running! Tripp Lite offers a full range of products designed to meet the unique power needs of hospitals, medical clinics, physician's offices, dental and veterinarian facilities. Tripp Lite's Medical-Grade UL 60601-1 certified power protection and power supply equipment (for all areas, including patient-care) includes UPS Systems, Mobile Power Retrofit Kits, Isolation Transformers and Power Strips. Additional Surge Suppressor and Power Strip models are available with hospital-grade plugs and receptacles. Tripp Lite Medical-Grade products provide UL compliance for connected equipment and reduce the cumulative leakage potential of connected equipment. UL 1363A certified power strips are also available.
For help in configuring solutions for hospital and medical facilities, please contact them at [email protected].
Benefits of The Eco Tripp- Lite Power Protector
Energy-saving "ECO" surge outlets that automatically turn off idle equipment
99% power efficiency that lowers annual energy bills by up to $50
100%  RoHS compliance to meet strict enviromental standards
Free PowerAlert software for unattended computer shutdown (Web download)
Telephone/DSL line surge protection
$100,000 Ultimate Lifetime Insurance